We Make Life Changing Education Accessible
18-Week Software Development bootcamp at the Montana Code School
Ready to Enroll?
Take our short, 12-question assessment.
Software Developer Pre-Assessment
"*" indicates required fields
Increasing access to life changing tech education through an optimized education delivery process.
Offer high-demand technology programs for a fraction of the cost.
Enable students to access technology education that is affordable and low-risk.
Once weekly evening class times allow you to keep your job while building the foundation for a new career.
Applicable Workforce Skills
Equipping students with current coding languages and real-world projects relevant to employment success.
Back End Development
Back End Software Developers are in charge of building applications that do the behind-the-scenes work. This typically involves receiving requests from a Front End application, processing the request, reading and writing to a database, and responding back to requests from other applications.
Course Breakdown

Front End Development
Front End Software Developers build the pieces of applications and websites that users see and interact with. This involves creating components that look good and provide functionality when a user interacts with them. It also involves interacting with Back End applications and displaying data in an aesthetically pleasing manner.
Course Breakdown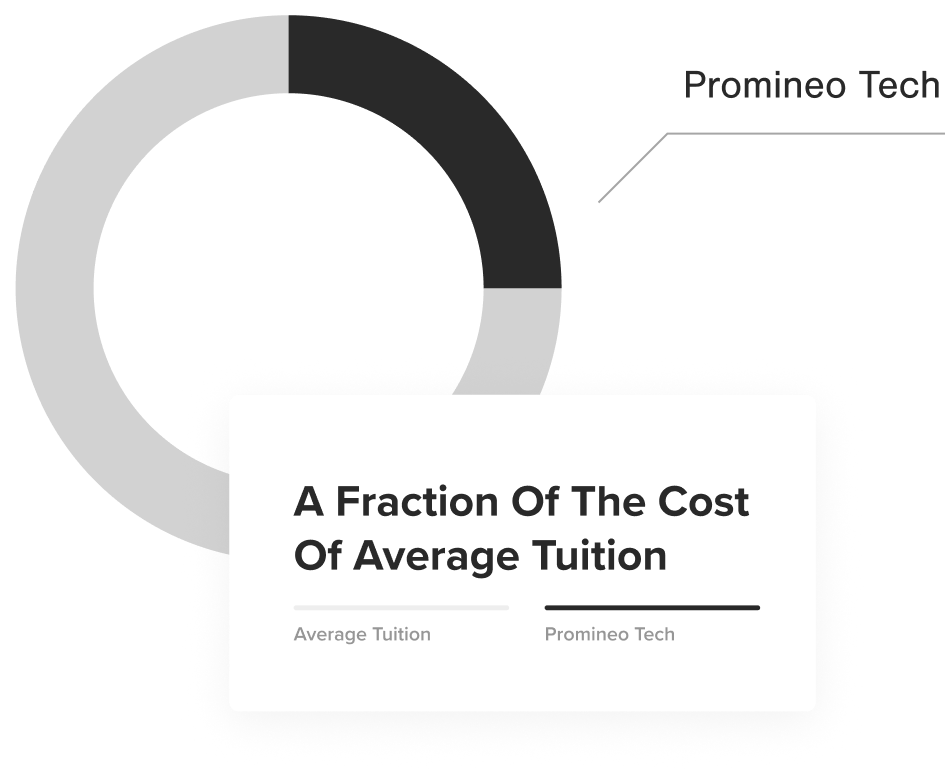 optimized education for accessibility
The average coding bootcamp costs more than $13,500. Through our innovative flipped-teaching and faculty model, our partners are able to offer comparable, quality programs for near a 4th of the average tuition.
​
In standing by our mission and working with amazing partners, we have lowered the financial barrier to access life-changing education.
Ready To Start Your Education Journey? Here's How It Works:
Select Your Program
2.
Take The Assessments For Your Selected Program
Take our short, 12-question assessment to see if your selected program will be a good fit for you!
3. Program Specialist Will Reach Out To Schedule A Meeting
4.
Start Your Journey Towards A New Career!
Front End Developer Program
Classes Begin
Back End Developer Program
Classes Begin
Frequently Asked Questions
Can somone with a full-time job attend this bootcamp?
Yes. This program is designed to be accessible, flexible, and allow working professionals who are actively seeking a career change to do so.
What is the time commitment for the program?
The time it takes to complete each week's assignments differs between students and modules, however, students who spend an average of between 20 hours a week tend to see the most success.
What are the system requirements?
A laptop with a minimum of an i5 processor and at least 8GB of RAM is required for this program. Windows, MacOS, or Linux are acceptable operating systems. Chromebooks will not work for this program.
Who are these programs geared towards?
Front End and Back End Coding Bootcamps are geared towards anyone looking to start a career in software or switch careers within the technology industry. You do not need any prior coding experience to enroll in a cohort, we will provide you with all of the tools you need to become employable within the market.
Are there any prerequisites?
Students must be 18 or over and have a high school diploma or equivalent. Basic computer literacy and the ability to navigate one's own computer is strongly preferred. Students will complete an aptitude test prior to the first class session.
It is estimated there will be a shortage of
1.4 million software developers

in the US within the next year. Start your Career Today.
Our bootcamps equip students to be ready for the workforce
Ready to Enroll?
Take our short, 12-question assessment.
Software Developer Pre-Assessment
"*" indicates required fields