April 2023 Student of the Month – Patrick Murray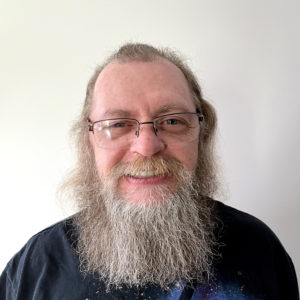 A Shining Example of Excellence and Support at Promineo Tech
Every once in a while, we are fortunate enough to encounter a classmate who brings an extraordinary level of positivity, knowledge, and support to the learning environment. At Promineo Tech, Patrick Murray has become that exceptional classmate. His passion for learning, willingness to help others, and dedication to personal growth have made him an invaluable asset to our coding bootcamp community.
A Unique Background in Computer Science
Unlike many coding bootcamp students, Patrick possesses a computer science degree with experience in C++ dating back to 2004. However, after working in quality control and software testing for 15 years, his role was outsourced in 2019, leaving him at a crossroads. Initially, Patrick embraced his time off as a stay-at-home dad, but he eventually felt a strong desire to reenter the field, this time with a focus on coding.
Embracing the Coding Bootcamp Journey
In his quest to refresh his skills, Patrick discovered the coding bootcamp offered through the Community College of Philadelphia in partnership with Promineo Tech. Recognizing the potential this program held, he wholeheartedly embraced it, immersing himself in both the curriculum and the supportive community. Patrick's classmates are quick to express their gratitude for his unwavering support and exceptional example.
Helping Others Learn and Growing Himself
Patrick finds immense joy in assisting others in their learning journey. He firmly believes that teaching others helps solidify his own understanding of the material. Patrick's commitment to knowledge goes beyond completing assignments; he seeks hands-on learning experiences that enhance his employability and foster personal growth. His dedication to true learning sets him apart as a coding bootcamp student.
Thriving in the Promineo Tech Community
The sense of community at Promineo Tech is one of Patrick's favorite aspects of the program. Engaging with fellow students, witnessing different problem-solving approaches, and learning from diverse perspectives all contribute to his growth as a developer. Additionally, Patrick recognizes the immeasurable value of mentorship and the impact it has on his learning journey. Open office hours and one-on-one mentoring sessions are highlights of his week.
Sacrifices and Support: A Journey to Success
Patrick's journey through the coding bootcamp hasn't been without challenges. He acknowledges the sacrifices of time and the unwavering support he receives from his wife and children, who understand the importance of his commitment to the program. Coding, studying, and constant contemplation of coding solutions dominate his free time. Patrick's dedication serves as a testament to his unwavering determination.
Words of Wisdom: Never Give Up
When asked to share advice with others embarking on a coding journey, Patrick's message is clear: persevere. Despite feeling overwhelmed and out of their depth, aspiring coders must keep pushing forward. The path may be arduous, but the challenges encountered are part of the learning process. Quitting guarantees failure, but persistence leads to success. Patrick's words inspire us all to keep striving for our goals.
Conclusion
Patrick Murray exemplifies the qualities of an exceptional student at Promineo Tech. His passion, selflessness, and commitment to continuous learning have made a lasting impact on his classmates and the entire coding bootcamp community. We are grateful to have Patrick as a role model, and we congratulate him on being named the Student of the Month. Your achievements and contributions inspire us all. Thank you, Patrick!
Start Your Journey Today
Interested in changing careers and becoming a software developer? Learn more about Promineo Tech's programs and how we help students make this transition through affordable, low-risk technology education: Start Your Journey: Exploring Promineo Tech's Coding Programs for Career Transition