For Students
Promineo Tech offers students the opportunity to learn in-demand tech skills to either enter or switch into a career in the technology industry.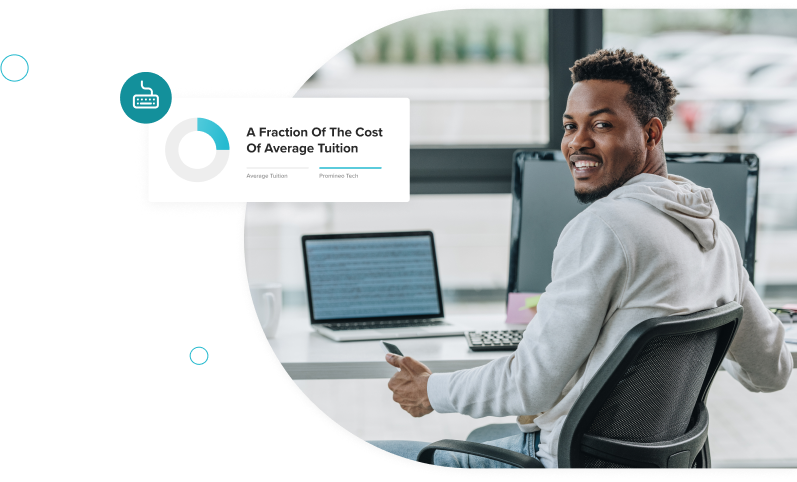 It Is Estimated There Will Be A Shortage Of 1.4 Million* Software Developers In The US Within The Next Year. Start Your Career today.
* According to BLS (U.S. Bureau of Labor Statistics)
Back End Development
Back End Software Developers are in charge of building applications that do the behind-the-scenes work. This typically involves receiving requests from a Front End application, processing the request, reading and writing to a database, and responding back to requests from other applications.
Course Breakdown

Digital Marketing
The Digital Marketing program is designed to help students with an interest in marketing create a portfolio and begin an entry level position in the digital marketing field. The curriculum is a project-based course that blends marketing theory, critical thinking skills, and practical experience to prepare students for an entry-level position in a growth industry. Students will become proficient in advertising platforms such as Facebook, Google, Instagram, Twitter, and LinkedIn.
Our program provides a fast-paced, detailed curriculum with a full-breadth of digital marketing knowledge in order to be a competitive applicant in an ever-growing job market. Digital Marketing jobs are growing 112% faster than the U.S. national average job growth*. Upon completion of the program students will be equipped with the tools to be successful at jobs such as marketing coordinator, social media advertising coordinator, branding coordinator, junior UX designer, and more.
Course Breakdown

Front End Development
Front End Software Developers build the pieces of applications and websites that users see and interact with. This involves creating components that look good and provide functionality when a user interacts with them. It also involves interacting with Back End applications and displaying data in an aesthetically pleasing manner.
Course Breakdown

Data Engineering
The Big Data Engineering Program is designed to introduce the technically inclined student to the technologies and methodologies requested by hiring companies and used by real world data engineers. This program is fast paced and will cover a breadth of technologies, including Python programming, Hadoop and cloud-based services in Amazon Web Services (AWS). The student will also be introduced to such methods as data wrangling, munging, ingesting and modeling for analytics. By the end of the program the successful student will be prepared for an entry-level position as a data engineer, Python programmer or business intelligence developer.
Course Breakdown